One of the most important things to take into consideration when you purchase an electric vehicle is its charger. Making sure your Tesla charger install is properly done and accustomed to your needs. Properly planning out the right charger is essential to a perfect setup. The cost of an electric vehicle charger installation can vary based on many different factors.
Different Electric Vehicle Chargers
Vehicle owners are supplied with Level 1 chargers from automobile manufacturers at the time of purchase for use at home. However, upgrading to a Level 2 charger is often a good investment.
A Level 2 electrical vehicle charger needs a 208-240 Volt, 40 Amp circuit. Whereas a Level 1 charger requires only a 120-volt, 15 amp connection. Which is standard in every home, contrary to the Level 2 that requires a professional installation by adding the proper breaker and wiring.
The big difference between the two levels is the charging time in accordance to its delivery. A Level 1 will deliver just 1.4 kW to the vehicle while a Level 2 ranges from 6.2 to 7.6 kW.
Typical charging time for a Level 2 EV charger is around 3-8 hours to full while the average Level 1 EV charger will take 11-20 hours to fully charge.
Level 3 chargers
These fast-charging devices use a very high voltage from 400 to 900 VDC and can add 90 miles of range to an EV in just 30 minutes. These chargers, however, are extremely expensive, costing tens of thousands of dollars, and routinely using a Level 3 charger can ultimately hurt your car's battery.
This is a fantastic solution for charging on the go. However, there are still some major challenges Level 3 electric vehicle chargers face, making them an impractical choice for most residential and commercial charging areas. You will typically find Level 3 stations along highways, parking lots and gas stations.
Read more about Level 3 chargers here
Costs to Consider with Electric Vehicle Chargers
The cost of an electrical vehicle charger and Tesla charger install can vary based on your home. Older homes may not have the proper capacity at the electric panel to properly support an EV charger. For example, there may not have any space left for an additional breaker in the panel. Or the 100 amp service to your house is maxed out considering all of the appliances currently in use.
Therefore if you are wanting a Level 2 charger installed, in some cases you might have to upgrade your service line and panel to support the extra power draw. That is to say, there may be potential added costs.
Do all EV chargers use the same connector?
In North America, all EVs except Tesla use the same connector for Level 1 and Level 2 charging, called J1772 or the "J-Plug." For Level 3 charging there are three standards currently in use. Tesla uses its proprietary plug, Nissan and Mitsubishi use the Asian standard called CHAdeMO, and all other manufacturers use the Combined Charging System, CCS or "Combo" plug.
However, Nissan recently announced they will be switching to the Combo plug for Level 3 charging in their new EVs in North America and Europe beginning later in 2021.
Tesla Charger Install
Tesla sells 3 options to charge your EV at home. There is a electric vehicle charger that uses and 3-prong 15-amp outlet. If you go with the 15-amp option, then you have the flexibility of taking your charger with you on the go. It also enables you to easily upgrade your charger later on, as you can just plug a new one in. Price tag on this charger is roughly 300$.
There is a wall connector that requires a 60 amp connection and is wired directly into your electric panel. Most homes do not have a 60 amp breaker, the highest amperage of a breaker might 30 amp for your stove or dryer. That being said, this would require a tesla charger install from a professional electrician.
Thirdly they also sell an adaptor to be plugged in to a 240-volt outlet. This is if you already have a 240-volt connection installed or you can have it installed. The price for this adaptor is roughly 60$ but the installation of the outlet can be between $500 to $1000.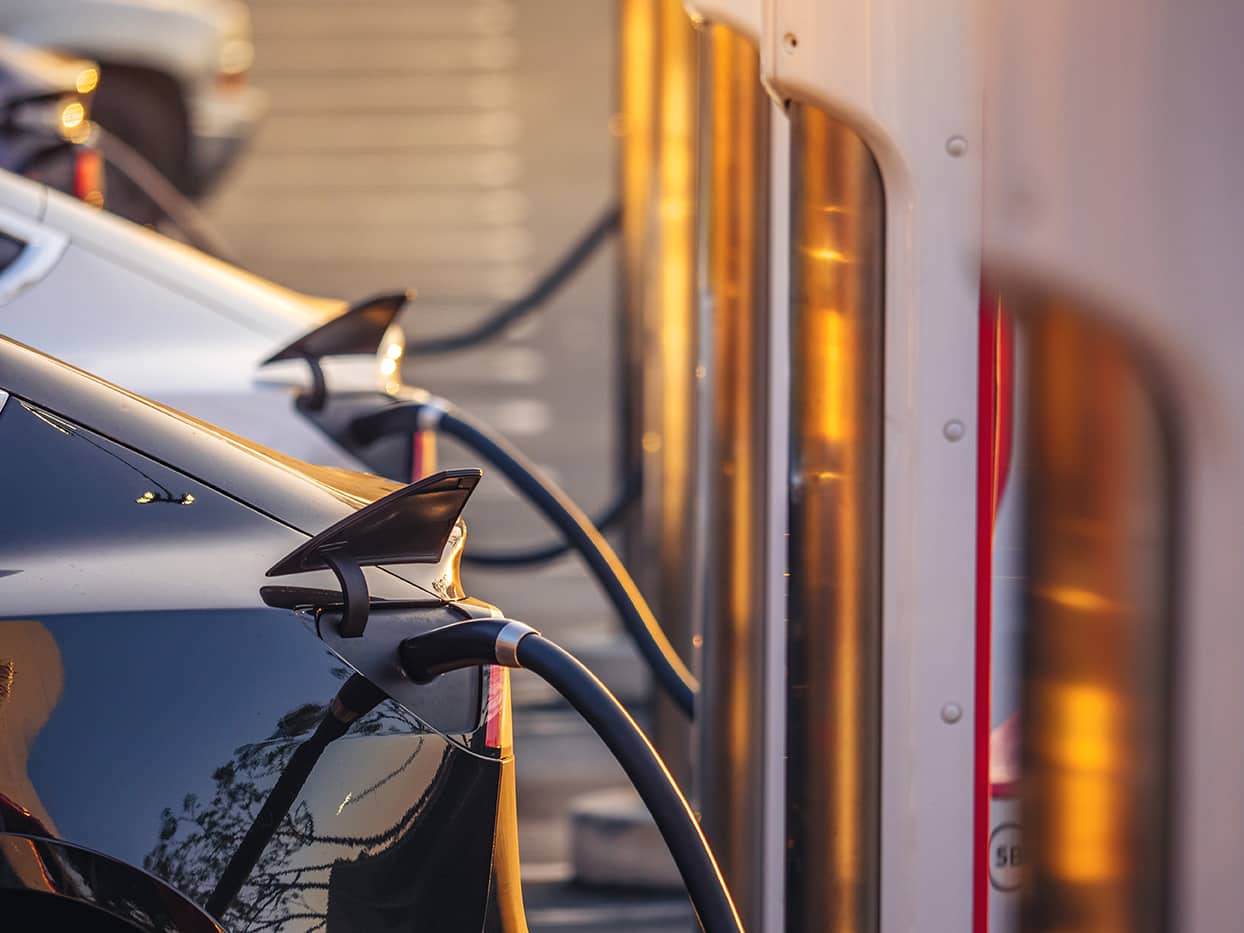 Read more about Tesla Charger Install here
Where Should I Install My EV Charger?
Deciding where to install your EV charger is an important decision. It needs to be easily accessible when you need it and in a safe place. If you don't have a garage, there are some chargers that can be used for both indoor and/or outdoor use. An outdoor electric vehicle charger installation will cost more due to outdoor rated parts which are more expensive.
Make sure to measure from where you want to install your charger, to where your vehicle would be parked during charging. It's important to purchase a wire that is long enough. There should always be some slack in the charger cord (at least 4 feet). It may also pay off to think ahead when deciding what length of charger you get. The longer the cable, the more flexible it can be to reach your electric vehicle's charging port.
Choosing the right EV charger for your home and the electric vehicle is essential. Depending on your home and the type of installation that you choose, costs can vary. The following factors can influence the overall price you pay:
The age of your home
Permits and regulations
Level of charger you choose (Level 1 or Level 2)
Type of charger you choose (plug-in or hardwired)
Indoor or outdoor installation
Where you decide to install your EV charger
As long as you do your research and prepare beforehand, installing an EV charger at home can be simple. Make sure to know what level of charger you need in according to the distances you drive and how often you use your car. I
t's also important to have a rough idea of where you want your charger to be located. Also, be sure to think long-term when it comes to your installation. It may save you money from having to upgrade your system in the future! If have any further questions when it comes to installing an electric vehicle charger, You can contact COBO Electric.